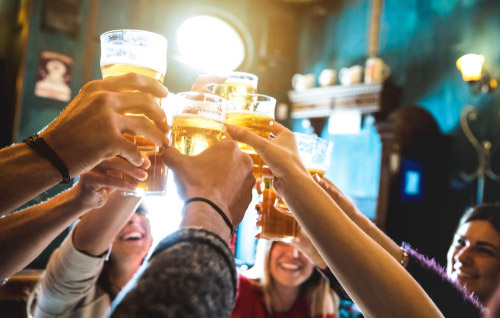 Whether you're an IPA drinker or prefer a tried and true domestic, Hometown Liquor & Company Store has you covered. Our selection of beer is unrivaled by any other beer stores in Winston, Dillard, Douglas County, Mrytle Creek, and Roseburg, OR and we're delighted to bring you just about any type of brew you might be in the mood for. From malt liquor, to hard cider, to lagers, ales, IPAs and beyond, stop by and grab a sixer (or a case) of your favorite beers.
Beyond our beer store's superb selection of beer and wine, you can also count on great prices when you shop with us. We work hard to maintain a huge inventory of options, with some of the lowest prices around. We've also got a great range of options in terms of stock—bottles, cans, six-packs, cases and more. Whether you're settling into your own personal favorite or sharing a beer with friends, you'll find it here.
Hard Seltzer
White Claw
Bon & Viv
Bud Light Seltzer
Hard Cider
Ciderboys Strawberry Apple
Cider Boys Peach Apple
Ace Pineapple
Angry Orchard
Beer
Bud Light
Budweiser
Busch
Busch Light
Coors Banquet
Coors Light
Corona
Hamms
Keystone
Mickys
Modelo
Pabst Blue Ribbon
Rolling Rock
Malt Liquor
Hurrican
King Cobra
Mikes Harder
Natural Ice
Redds Wicked
Steel Reserve
Twisted Tea
IPAs
Deschutes
Worthy
Backside
Pyramid
Elysian
Ale
Blue Moon
Flat Tire
Sierra Nevada
Lager
Michelob Amber Bock
Backside Dougie
Henny Weinherds
Looking for some kind of beer and wine in particular? Stop into Hometown Liquor & Company Store to see if we carry it, or contact us at 541-679-7925. We'll happily find you a brew you can crack open and enjoy. Whether you prefer an old classic like Bud Light, Coors or Hamms, or you're branching out into microbrews like Elysian and Deschutes, you won't be disappointed in what you find on our beer store shelves, be it beer and wine, liquor, or tobacco pipes!